CDL A OTR Owner Operators: Hiring Nationwide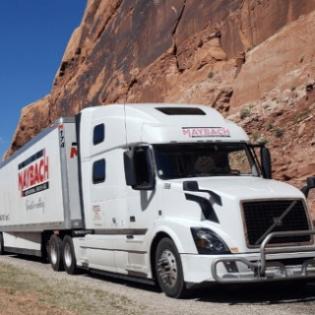 Apply to Maybach International Group Inc
Take the next step in your trucking career today! Complete our safe, secure, and fast application process and apply to Maybach International Group Inc! Once you've completed your driver profile you can apply to additional truck driving jobs with a single click!
Apply Now!
Sign In to Apply
About This Job at Maybach International Group Inc
Maybach International Group is a Chicagoland-based logistics company that has delivered thousands of goods across the country to local communities just like yours. Our goal is to do our best in strategic problem solving to get products moved safely and cost-effectively. Since we established our company, we have had an open and transparent relationship with our staff and drivers. We want to be fair when it comes to booking loads and getting the best possible rates for our hardworking drivers. We provide each employee with training to maximize their skills before they start.
At Maybach, we form relationships with brokers and customers to deliver on time, cost-effective services with a smile. We also understand that being compliant and following the rules and regulations of the road can bring us a long way.
We currently have opportunities for Owner Operators. 
Check out our pay options: Owner Operators keep 88% of gross profit OR 78% with no extra costs.
* Average gross profit is $8,000-10,000 WEEKLY 
Keep 78% of gross profit with "The 22" program!
No Added Costs for:
● Trailer ● Cargo ● ELD ● PrePass ● IFTA ●  Escrow ●  Security Deposit
- Only pay for I-Pass (online)
- With ''The 22'' program, incur no other costs except 22% of the gross! Everything else is included. Also, parking for you to use, and NO NEGATIVE BALANCE EVER!
- We have our own maintenance shop and yard.
- This program can save you up to $150/week.
ALSO: option for 25% if you would like to include registration in the package.
OR
Keep 88% of gross profit with our standard program and 12% Operating Costs
● Trailer:$250  ● Cargo:$250/ (NG $350)  ● OCC:$185 ● IFTA : quarterly ● ELD:$50 ● PrePass: $46 ●ACH: $10
- Option of Physical Damage thru Maybach and price depends on make, model and year of truck.
- I-Pass your own cost.
Details and Perks:
Runs under Maybach authority
Direct deposit every Monday
Fuel and insurance options available
No security deposits 
No escrow taken out for new owner operators - start earning immediately
Absolutely no hidden fees
Inspection bonus - every time you pass from $200-$700
No forced dispatch so your home time is flexible
We rent trailers
Have your own truck preferably 
No truck? No problem! We have options to drive with other Owner Operator trucks as well.
We have an office in Miami, FL as well!
-        Can do all onboarding including orientation
-        We provide Spanish speaking assistance
-        Have our own yard and Repair Shop
Requirements:
Valid CDL A
1+ years of experience required
No major preventable accidents
Clean criminal record
Safe driving history
Not hiring out of California at this time
This job search is being conducted by Drive My Way (www.drivemyway.com) on behalf of Maybach International Group Inc.
Click to Apply
Expediting Experience Required?
No, we do not require that applicants have expediting experience.
Hiring Area By State
A
B
C
D
E
F
G
H
I
J
K
L
M
N
O
P
Q
R
S
T
U
V
W
X
Y
Z
a
b
c
d
e
f
g
h
i
j
k
l
m
n
o
p
q
r
s
t
u
v
w
x
y
Alabama
Arkansas
Arizona
California
Colorado
Connecticut
Delaware
District of Columbia
Florida
Georgia
Iowa
Idaho
Illinois
Indiana
Kansas
Kentucky
Louisiana
Massachusetts
Maryland
Maine
Michigan
Minnesota
Missouri
Mississippi
Montana
North Carolina
North Dakota
Nebraska
New Hampshire
New Jersey
New Mexico
Nevada
New York
Ohio
Oklahoma
Oregon
Pennsylvania
Rhode Island
South Carolina
South Dakota
Tennessee
Texas
Utah
Virginia
Vermont
Washington
Wisconsin
West Virginia
Wyoming
Click to Apply
Driver Requirements
| | |
| --- | --- |
| Min. driver age: | 23 |
| Min. driving experience: | Less than 1 year |
DMV Record
| | |
| --- | --- |
| Hire a driver who has had their license suspended or revoked: | No |
| Hire a driver with a DWI or DUI: | No |
Click to Apply