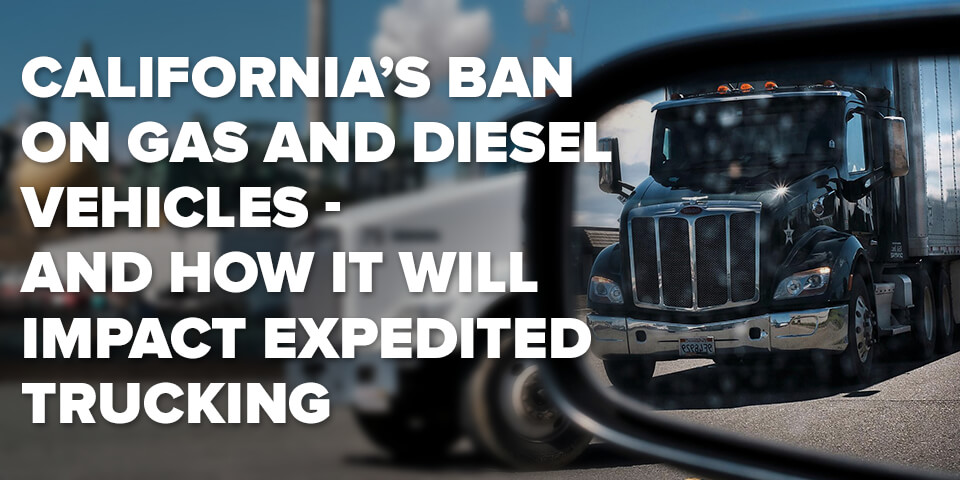 California's Ban on Gas and Diesel Vehicles-and How It Will Impact Expedited Trucking
In September, California Gov. Gavin Newsom announced that his state would ban the sale of new light-duty gasoline and diesel vehicles, effective in 2035.
And by 2045, new medium- and heavy-duty trucks sold in California must also be zero-emissions.
So, what does this news mean for expedited trucking?
First, by 2035, you would not be able to purchase a new Sprinter-style high-roof cargo van with an internal combustion engine in California. New vans will be all-electric-with battery or hydrogen power.
By 2045, new expediter straight trucks and tractors sold in California would only be all-electric, most likely with the longer-range hydrogen power.
Now, you might be thinking, "So what? That's California. I don't live there and don't plan to. And I can't see how this type of ban would spread much beyond that state any time soon. And besides, we're talking about 15 years for vans and 25 years for straight trucks before those bans go into full effect anyway, right? So, why should I care now?"
Good question. Here are four reasons why you should start thinking about this now-even if you're not based in California.
#1. California is too big to ignore.
Think about it. If California was a sovereign nation, it would rank as the world's fifth-largest economy. And the state accounts for a massive share of U.S. auto sales.
This means that when California talks, the automakers listen.
After all, it doesn't make financial sense for most OEMs to dedicate one slice of their manufacturing capacity for "California-compliant" zero-emissions vehicles and then the rest of their capacity for conventional gas and diesel vehicle production.
Instead, OEMs are looking to achieve economies of scale to lower costs and grow profits.
So, what's more than likely to happen is that the California zero-emissions standards will drive what OEMs build and sell throughout the U.S.
#2. Global governments have already issued similar bans.
California is not alone on the global stage. China and several European countries have already issued similar bans on internal combustion engines to go into effect in the next decade or so.
As Hakan Samuelsson, chief executive of Volvo Cars, said in a recent interview with The Wall Street Journal, "We have to realistically believe that around 2035 there will be a serious discussion about banning the internal combustion engine, and not just in California."
In a report published in August, Morgan Stanley predicted that, by 2035, when California's ban comes into effect, EVs are expected to account for about half of all new cars sold globally and more than 80% by 2050.
As a frame of reference, electric vehicles accounted for just 2.8% of total worldwide auto sales in 2019, according to the research group, LMC Automotive.
#3. Most automakers have made public commitments to an all-electric future.
The automakers appear to be embracing electrification as the future of the industry.
In the past year, most OEMs have announced significant investments in electric vehicles (EVs), with new models expected to launch in the next few years.
And despite the plant shutdowns in the spring and early summer from the coronavirus, automakers have signaled that they're still moving full speed ahead on their EV rollouts.
Ford said that its all-electric F-150 pickup would start production in mid-2022, along with the electric Transit full-size cargo van.
And a new player in the market, Lordstown Motors, recently unveiled its all-electric pickup for the fleet market with production expected to begin in 2021.
Also, most of the medium- and heavy-duty truck OEMs, including Freightliner with its eCascadia, have made big bets on electric trucks.
#4. Sustainability-conscious shippers might prefer-and even require-zero-emissions deliveries.
As more EVs come to market in the next five years or so, watch for what this could mean for shippers. After all, Amazon has already made significant investments to purchase all-electric vans for its delivery fleet to become carbon neutral.
More and more shippers are looking to tout their "combating climate change" credentials. So, when EVs become more readily available, you can imagine how these companies would view zero-emissions logistics as the low-hanging fruit to achieve their sustainability initiatives.
And, when that happens, watch for trucking carriers to start making the shift to owner-operators and fleet owners who run electric vans and trucks.
The Bottom Line
Look, I'm not saying that electric trucks and vans will be viable for the expedite industry in the near term-say, the next five years or so.
But, in 8 to 10 years? That might be a different story.
While California is the only state (so far) to issue a ban on new gas and diesel vehicles-and it doesn't go into effect until 15 years from now-the impacts might be felt much sooner.
How (and when) will it affect your business? Time will tell.
But the important thing right now is to start educating yourself on electric trucks and vans in the same way you've learned about the latest diesel and gas vehicles. Because, if current trends continue, at some point-perhaps before this decade is over-you'll be purchasing, driving, and maintaining an EV.
Will you be ready?