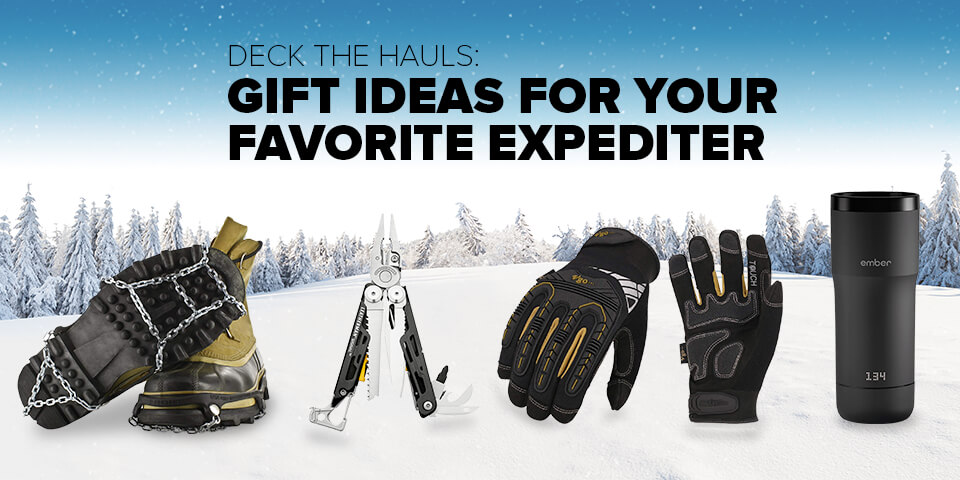 Deck the Hauls: Gift Ideas for Your Favorite Expediter in 2019
If you have an expediter on your holiday shopping list, you may not know where to start.
What does your favorite expediter really want for Christmas? What's something that you can give that they would love and actually use?
At ExpeditersOnline.com, we've done a lot of the research for you. And we've found seven gift ideas that your loved ones or friends in the expedited trucking industry will appreciate.
Shoe Chains
Price: $40.56 (Amazon)
Details: https://www.amazon.com/ICETrekkers-Diamond-Traction-Cleats-X-Large/dp/B00A3T900E
During the winter, your favorite expediter will encounter icy conditions, not only while driving their trucks but also when stepping out of them. And each step on the ice increases the risk of slip and fall injuries.
That's where shoe chains come in. Think of them as tire chains for the feet.
ICEtrekkers Chains are made of case-hardened steel alloy and strung on steel aircraft cable, riveted to a sturdy rubber sling that fits sneakers, boots and dress shoes, which enhances their traction on ice and snow.
Temperature Control Travel Mug
Price: $134.95 (Amazon)
Details: https://www.amazon.com/Ember-Temperature-Control-Travel-Battery/dp/B01N2HT77T
It seems like a small thing. But when you're away from the comforts of home for several weeks at a time, it would be nice for your coffee to stay hot and delicious for as many hours as possible.
So, if your favorite expediter is a coffee lover, they'll appreciate this gift.
Consider giving them the Ember Temperature Control Mug, which will keep their hot drink at the exact temperature they prefer (between 120 degrees Fahrenheit to 145 degrees Fahrenheit). The mug offers a two-hour battery life on a single charge, and there's a charging coaster for all-day use.
Extra Large Shower/ Toiletry Bag
Price: $23.99
Details: https://www.amazon.com/Capacity-Toiletry-Waterproof-Lightweight-Organizer/dp/B07D47B6ZV
Your favorite expediter may already have a large shower bag that they bring in with them to use in the showers at truck stops. But it could be time for a new one.
This extra-large shower bag by Buruis is designed with honeycomb waterproof nylon fabric, making it easy to wipe clean and keep dry. There are 20 compartments, including one main compartment, 17 upright mesh divider pouches inside the bag, and two compartments accessible from the outside of the bag.
The Buruis shower bag is available in purple, black, blue, orange, pink, denim gray, gray, and light blue.
TA Petro Gift Card
Price: Variable
Details:
https://www.ta-petro.com/newsroom/travelcenters-of-america-introduces-dining-gift-card-and-bonus-card-program-for-the-holidays
TravelCenters of America (TravelCenters) offers dining gift cards for use at their truck stops, which can be purchased at all participating TA and Petro full-service restaurants. They can be activated in any amount and redeemed for both full-service and fast-food dining purchases in their respective centers, TA or Petro.
Leatherman Stainless Steel Multi-Tool
Price: $119.45
Details: https://www.amazon.com/LEATHERMAN-Camping-Multitool-Emergency-Stainless/dp/B00WBR8LJ2
When space is tight on the truck, the Leatherman multi-tool can be useful for your favorite expediter to have on hand.
Think of it as the Swiss Army knife for truckers. It's a compact all-in-one tool with a variety of pliers, wire cutters and stripper, knife, saw, hammer, bit drivers and wrenches, bottle and can openers, carabiner, safety whistle, fire-starting ferrocerium rod, diamond-coated sharpener, and awl with thread loop.
Enhanced Memory Foam Seat Cushion
Price: $29.95
Details: https://www.amazon.com/ComfiLife-Gel-Enhanced-Seat-Cushion/dp/B014F18ZGU
Your favorite expediter sits in the driver seat for several hours at a time, often several days a week. And those long hours of sitting can cause-or make worse-back and hip pain.
So, if they don't already use one, they might appreciate a ComfiLife gel-enhanced seat cushion. The gel memory foam provides support to relieve pressure on the tailbone and reduce pain from lower back problems, herniated discs, sciatica, and other spinal issues.
Amazon Gift Card
Price: Variable
Details: https://www.amazon.com/gift-cards/b/ref=sv_cm_gft_hol19_5?_encoding=UTF8&ie=UTF8&node=5743983011
If you're still at a loss for what to get your favorite expediter, you'll never go wrong with an Amazon gift card.
That's because Amazon gift cards are redeemable toward millions of items at Amazon, have no fees, and never expire. And you can purchase them in a variety of formats: physical gift cards to ship in the mail, eGift Cards to send in email or text message, and print-at-home gift cards. Physical gift cards always ship with Free One-Day Shipping in a gift box or blank greeting card, whichever you select.