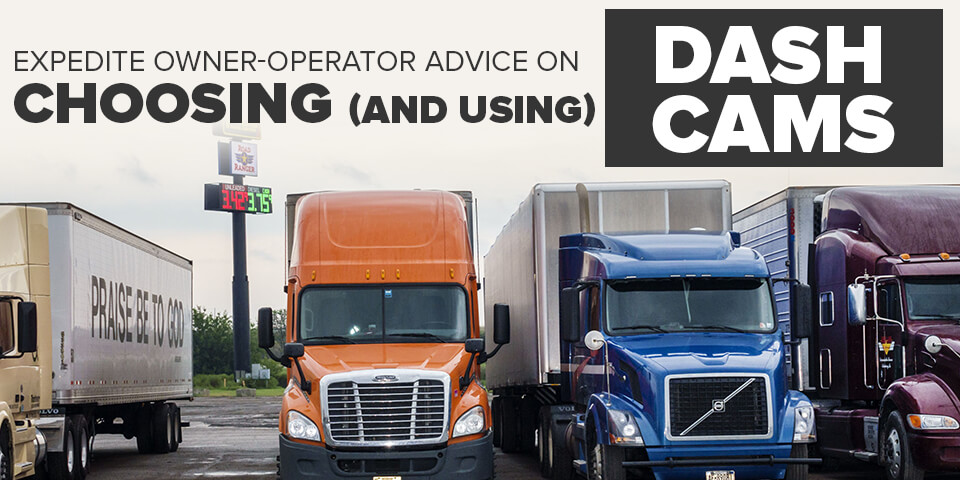 Expedite Owner-Operator Advice on Choosing (and Using) Dash Cams

As a commercial truck driver, you're a target.
If your truck is involved in a collision, you can bank on the fact that the finger of blame will be pointed at you, unless you can prove otherwise.
That's where dash cams come in.
"As independent contractors or small business owners, I think dash cams are a must," says Jason Hutchens, an owner-operator who, with his wife Heather, shares advice on all things expediting on The Crafty Trucker Youtube channel. "The way people drive these days, without any care for others, where they're so quick to sue big trucks even if they're at fault, I think we must have that added protection [from the dash cam]. Without it, we are just one accident away from losing everything, including our CDLs.
But what should you consider when purchasing a dash cam for your truck?
EO reached out to expedite owner-operators Jason and Heather Hutchens, Greg Huggins, and David Manley to get their perspective and advice.
The Dish on Dash Cams
Jason Hutchens says that he and Heather use the Thinkware F800 dash cam.
"It's pricey but works great," says Hutchens. "For a more budget-friendly option, we really liked the Roav by Anker. It does the job and has a proven track record of reliability. And for the price, you could pick up two to have a backup."
Another option is a multi-camera system from DieselBoss.com that connects to a DVR system inside the truck, says Hutchens. "These systems are top of the line with different camera qualities and DVR hard drive sizes."
Greg Huggins uses an outward-facing dash cam, along with a backup camera, and freight camera.
"I got a dash cam years ago after a 'hit and run' in a parking lot, and I would not be without one again," says Huggins.
Huggins doesn't recommend a specific brand camera, but he offers this advice: "Make sure any dash cam you choose has all the features you want. For me, that's a shock sensor, the ability to record and store video, and ease of use with quality video."
But keep in mind that when it comes to using your dash cam, you can't merely set-it-and-forget-it.
"Don't assume [the camera] is recording," says Huggins. "Verify and then re-verify regularly. If you have a malfunctioning dash cam, you basically don't have one. Video storage (SD cards) should be checked regularly. I check mine once a month and format the card each time. Also, SD cards in a sunny windshield are prone to have issues."
David Manley uses the outward-facing Garmin Dash Cam 35.
"I spent a lot of time reviewing different cameras and spent a little more money for the Garmin," says Manley. "It has a GPS built into it and displays the speed, location, time, with a built-in proximity sensor that warns you if you're getting to close to someone."
He says that the Garmin 35 records for a week and then rewrites over its recorded videos when the storage fills up.
"The Garmin 35 was the top of the line when we started, and the newer [models] are even better with wireless downloading of the recorded videos. I'm planning to purchase one of those next," says Manley.
The Bottom Line
Like it or not, as the truck driver, the burden of proof is on you. So protect yourself-and your career.
"We will not drive without a dash cam, even if we have to pick one up from a truck stop in a pinch," says Hutchens. "Our CDL and careers are just too valuable to us."