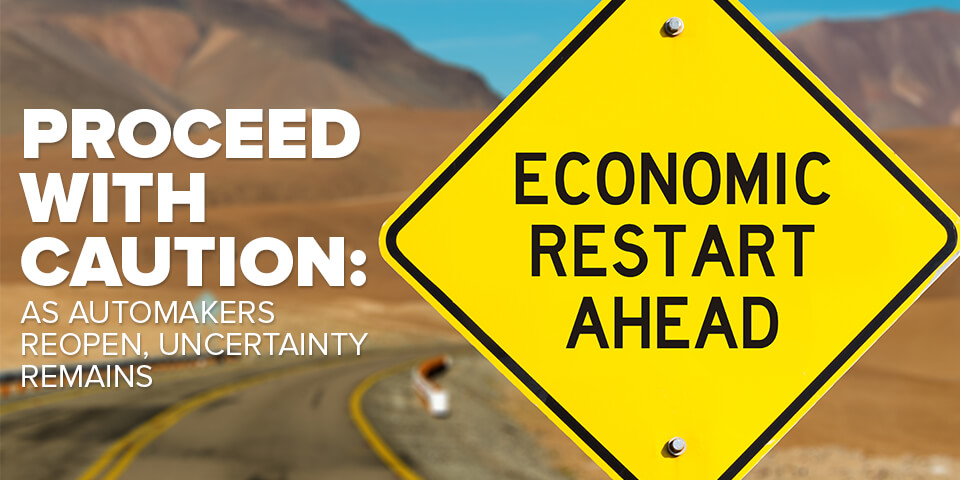 Proceed with Caution: As Automakers Reopen, Uncertainty Remains
Most automakers plan to start reopening plants the week of May 18, which is good news for expedited trucking companies that have built a substantial share of their business providing just-in-time parts deliveries to those facilities.
But uncertainty remains as to what expediters can realistically expect with how the plant reopenings will impact their business - at least, in the near term.
For example...
When will demand for vehicles get back to "normal"?
In the latest jobs report, 20.5 million Americans filed for unemployment in April alone, catapulting the unemployment rate to 14.7% from near a historic low of 3.5% in February, surpassing the peak of the Great Recession of 2008-2010, which hit about 10%.
How will this impact consumer demand for vehicles in the coming weeks and months?
It depends on what happens as the economy gradually reopens. How many people who filed for unemployment will get their jobs back or find new jobs?
The point here is that high unemployment tends to mean lower consumer appetite (and ability) to make big-ticket purchases, like for vehicles. And auto sales appear to have already taken a big hit - down more than 50% in April, according to estimates from Cox Automotive, which operates sites such as Kelley Blue Book and AutoTrader.
The key takeaway here is to watch the unemployment numbers for May and beyond and see how they're trending. Did we peak at 14.7%? Or is the worst still the come before things get better?
As the unemployment rate drops, automotive sales should rise, which eventually should increase demand for expedited freight in the industry.
Will safety measures prevent outbreaks at factories?
The Detroit automakers, with input from the United Auto Workers (UAW), have put together safety guidelines for returning to work. To get a glimpse into what those guidelines look like, check out GM's 48-page COVID-19 employee guide with the new policies and procedures: https://www.gm.com/content/dam/company/no_search/safetyplaybook/GM_ReturnToTheWorkplace_Employee_Guide.pdf.
Some of the highlights include:
Using "no-touch" thermal screening devices that take a worker's temperature in two to five seconds before they're permitted to enter the facility
Requiring approved face masks to be worn at all times except when eating or drinking
Staggering start times and lunch/ break times to help prevent congestion
Propping doors open to increase airflow and eliminate touchpoints.
But what happens if there's a surge in COVID-19 cases among workers, despite following the guidelines?
This is an important question because, while automakers have the authority to pick restart dates, the UAW can file grievances and seek closures if the virus spreads at factories.
So, watch this space. Will the factory safety guidelines work? And what happens if there is a "second wave" outbreak in the states where the factories are located? How will those state governments respond? What would be the impact on the plants?
After several weeks of strict stay-at-home orders in effect across the U.S., it's good news for the expedite industry to see the automotive plants - and the economy as a whole - begin to reopen. But with unemployment at historic highs and uncertainty around whether stringent guidelines will contain the virus from spreading at the plants, it's still too early to tell how long it will take for expediters to see automotive freight levels return to "normal."