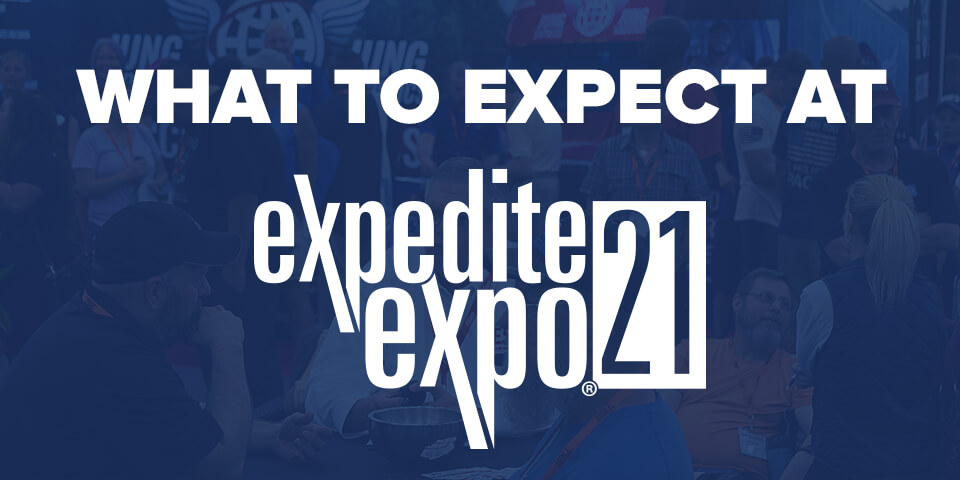 What to Expect at Expedite Expo '21

EXPO IS THIS WEEK! HOPE TO SEE YOU THERE! Register Now - It's Free!
The Expedite Expo '21 is shaping up to be the first in-person trucking event since the COVID lockdowns began last March.
The show's presenting sponsor will be Expediter Services. Hundreds of drivers, owner-operators, and fleet owners from across North America will descend upon Fort Wayne, Ind., to meet new people, learn from successful expedite professionals, and open doors to new business opportunities.
So what exactly is the Expedite Expo? And what can you expect when you attend?
Here are answers to some questions you might have as you consider making the Expedite Expo part of your summer plans.
What is the Expedite Expo?
The Expedite Expo is the only trade event focused exclusively on the expedited trucking industry. Launched in 2001, the Expo attracts attendees and exhibitors from all over the US to learn about the newest trucks, career opportunities, and products geared specifically to owner-operators and drivers of cargo vans, medium-duty, and heavy-duty trucks.
Where will it be held?
The show will take place at the Allen County War Memorial Coliseum in Fort Wayne, Ind.
When?
July 16-17, 2021.
Who is the Expedite Expo for?
Expedite Expo attracts owner-operators, CDL drivers, fleet owners, fleet managers, motor carriers, and anyone interested in learning more about the expedited trucking sector.
Who exhibits?
Exhibitors include trucking companies, truck manufacturers, suppliers, and service providers involved in every major product category in the trucking industry.
Why attend Expedite Expo?
There are many reasons. But here are five of the biggest ones.
1. Find new business opportunities.
Connect with trucking carriers and fleet owners looking for people like you interested in finding business opportunities to make money in expedited trucking.
2. Learn about how to succeed in the business of expediting.
Choose from several educational workshops packed with advice on specifying a truck, choosing the right carrier, reducing costs, improving profits, and saving time. You will receive the latest, most effective strategies for surviving - and thriving - in today's economy.
The workshops will be held from 8:30 am to 11:00 am on Friday, July 16, and Saturday, July 17.
Some of the topics include
How one millennial couple got started and are now excelling in the industry
What are the financing options available to me to purchase a truck?
Great advice from an industry expert on how to succeed in expediting with a cargo van
Panel session with seasoned drivers of all ages
How to be a successful owner-operator
How to be a successful fleet owner
Updates from Women in Trucking.
There will also be a panel discussion on Saturday, July 17, from 10:00 am to 11:00 am, on "The State of Expedited Trucking." I'll be moderating that panel and will ask industry experts to peer into the future and share what they see. We'll unpack new ideas and strategies to help you capitalize on the opportunities and navigate the challenges that lie ahead to take your business to the next level.
3. Expand your network.
Make lasting connections with people who speak your language and share your day-to-day challenges. Compare notes, exchange ideas, and build relationships. Gain insights and learn from the experiences of your peers.
4. Win cash.
Expedite Expo is where expedite truck dealers and manufacturers get to measure your reaction to their latest trucks, sleepers, and cargo vans. So, you get the chance to show them what you think by voting for the best of the best.
The 2021 Expedite Drivers' Choice Award will recognize the dealer whose truck or cargo van receives the most votes. Your ballot is also your chance to win one of two $500 cash prizes. The contest period will be from 11 am to 2 pm on Friday, July 16, and 11 am to 2 pm on Saturday, July 17. Votes for the Drivers' Choice Award will be tallied, and the drawing for the cash prize will take place at 2:30 pm each day.
5. Have fun.
Friday night, July 16, is Bingo Night - from 7:00 pm to 10:00 pm.
Grab a seat. There are no losers at this event, and it's free! They'll be great music and fun - and a lot of prizes to be won.
Then following the close of the Expo on Saturday, July 17, at 3:30 pm, is our annual ExpeditersOnline Driver's BBQ. Enjoy pulled pork BBQ with all the fixings. We will take up a free-will collection with all profits being donated to St. Christopher Fund.
What is the cost?
Registration is free.
What about parking?
The Allen County War Memorial Coliseum is a city building, which means that they charge for parking. Parking is $6.00 per entry for cars, van, pickup trucks, and motorcycles, with the daily access pass being $12.00
The cost for RVs, straight trucks, and semi-trucks is $18 per entry.
Memorial Coliseum offers 5,500 on-premises spaces in a lighted asphalt parking lot. You may stay overnight in the parking lot. You can arrive as early as Thursday to stay overnight, but you need to leave the parking lot by Sunday morning.
How do you register?
Register here to reserve your spot to attend the Expedite Expo 21: https://www.expediteexpo.com/attend/registration-main/